HELICOPTER GOLF IN IRELAND - AN INTRODUCTION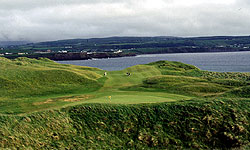 Lahinch Golf Club
Ballybunion, Waterville, Royal County Down, Royal Portrush, Lahinch, Old Head, Tralee, Portmarnock…and you could go on! The very mention of these Irish golf courses strikes a chord with golfers across the globe. But there are other courses like Dooks, Connemara, Rosses Point, Enniscrone, Ballyliffin, Portstewart, Baltray and Royal Dublin that merely serve to highlight the strength in depth of golf in Ireland.

That Ireland is so revered as a golfing destination is of course due to the quality of its golf courses. But there are other factors, integral to making Ireland one of the most popular destinations in the world. The range of accommodations; the friendliness of the people; the attitude of the golf clubs; the history of the game; the "craic" in the pubs; the quality of the food; the spectacular scenery; the unique atmosphere of the country; and the range and quality of the transportation options. All these factors combine to make a golfing vacation to Ireland a truly memorable experience.

Those who have visited Ireland on a golfing holiday will know all about the joys of travelling from place to place. Whether they decided to take a self-drive trip or opted for a chauffeured vacation, the travelling element of the trip can often be almost as enjoyable as the actual golf, given the breathtaking nature of the Irish coastline and scenery in general. And while the sights by road are wonderful, the sights by air give a totally different, yet equally stunning perspective.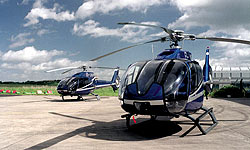 There are times, however, when travelling by road just does not allow the avid golfer to realise their dream trip. The age-old problem has always been one of: "so many great golf courses but not enough time". The option of helicopter transportation or "Heli Golf", as it's known, is a perfect option and makes the otherwise logistically impossible, distinctly possible. Who hasn't dreamt of playing 18 holes at Ballybunion in the morning and following that up with 18 holes at Royal County Down in the afternoon? Well, that is exactly the kind of thing that Helicopter Golf facilitates.

Though our clients can fly every day of their trip if they wish, the beauty of Helicopter Golf in Ireland lies in the fact that the helicopter option need not be used every day. Our clients can also choose road transportation for some of the trip and fly only on the logistically difficult days.