OUR PRODUCT, SERVICE AND HELICOPTER PILOTS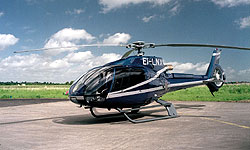 Bearing in mind that both companies involved in Helicopter Golf in Ireland are leaders in their respective fields; Carr Golf & Corporate Travel in the Irish golf travel market, and Links Helicopters Ltd. in the helicopter aviation industry, it is imperative that our product and service is also unrivalled. An excellent product without the associated service is of little use, while excellent service without a parallel product, in this instance, would be even worse. That is not the case here!


The Helicopter Product

In every respect, particularly in terms of quality, comfort and safety, our helicopter product is second to none. Boasting two new EC 130 jet engine machines, each helicopter has the capacity to seat six passengers and golf bags but is absolutely ideal for four golfers, complete with luggage and golf clubs. With four individual seats in the back and two passenger seats in the front, the EC 130 offers the maximum level of comfort and boasts the most up-to-date safety and computer technology available.
Focus on Service

In terms of service, through their years of experience in the golf travel business, Carr Golf & Corporate Travel brings a lot to the table. Knowing exactly what's important to the golfer, Carr Golf ensures that expectations are not only met, they are surpassed. Itineraries are tailor made to suit specific requirements and being local, Carr Golf are always available to address any issues or last minute changes of plan. Positioned to provide the very best for their clients, Carr Golf's service is reinforced by their excellent relationship with golf courses, accommodations and logistics providers.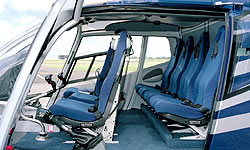 A Little About our Pilots

Links Helicopters Ltd. employs two full time pilots in John McDermott and Carmel Kirby. John served with the Irish Aer Corps from 1975 to 1990, at which point he joined the Irish Coastguard Search and Rescue unit as a crewman on board the Sikorsky S61N based at Shannon Airport. During his time here, John completed over 250 rescue missions and in 1999, John was awarded "The Marine Silver Medal for Meritorious Service" for the skill and determination shown in boarding the disabled fishing vessel "Dunboy" and safely evacuating five crewmembers. John left to fly commercially for a civil company where he gained vast experience of the helicopter charter business. John is now a full time managing pilot with Links Helicopters.

Carmel first attained a commercial fixed-wing licence in 1991 and worked for a period with Irish Helicopters. In preparation for joining the Irish Coastguard Search and Rescue operation, Carmel spent several months flying to the oilrigs and platforms in the North Sea. Carmel completed over 220 rescue missions and was awarded "The Marine Ministerial Letter of Appreciation for Meritorious Service" in 1999 for the rescue of crewmembers from the disabled fishing vessel "Dunboy". Later in 1999, Carmel returned to flying fixed-wing and flew commercially for Virgin Express Airlines and Ryanair for the next three years. Carmel joined Links Helicopters in 2002 and now flies the new Eurocopter EC130 B4.